Are crypto wallets safe, taxable, free and can be traced?
Today we will talk about general features of electronic wallets for cryptocurrencies that can be useful for your safety. Payperless team answers the major questions about crypto wallets.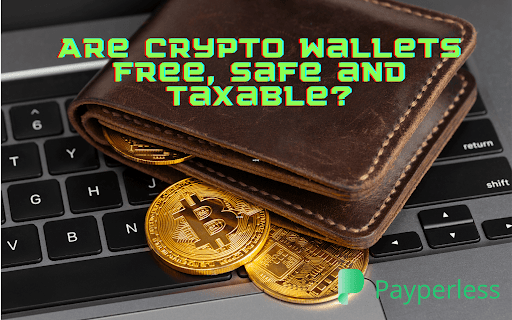 The transfer of digital assets between digital wallets or across different digital exchanges is not considered a taxable action under the current tax law. However, exchanges and crypto wallet platforms charge a small token for each transaction.
2. Are crypto wallet apps safe?
The safety of crypto wallets depends on their security architecture. Generally, crypto wallet apps on mobile devices and the web are considered unsafe.
3. Is crypto wallet free?
Not all crypto wallets are free. Payperless and a handful of other crypto wallet platforms allow their users to access their crypto wallet free.
4. Can Crypto Wallet Be Traced
The address of your crypto wallet is visible to everyone on the blockchain it is built on. With all transaction recordings available on the public ledger, the transactions going in and out of your crypto wallet is visible to everyone.
5. Can crypto wallets be blocked?
Crypto wallets can be frozen for a given geographical location. While the task is tedious and herculean, mapping geolocation data on crypto wallets for blocking is possible.
6. Can a crypto wallet hold different coins?
Yes, multi-currency or universal wallets allows users to hold multiple types of cryptocurrencies in one wallet. Payperless is one of the different crypto wallet platforms that allows you to store multiple currencies.
7. What crypto wallet supports Dogecoin
Different platforms support Dogecoin. Some of them include Payperless. Coinbase, Binance, crypto.com, among several others.
8. Where is my crypto wallet address
You can find your crypto wallet address in the personal information section of your preferred crypto wallet platform. Your crypto address is a long string of characters just below the QR information.
9. Where to keep a crypto wallet
The best way of keeping your crypto wallet is offline through a paper wallet. A paper wallet is a cold wallet that provides the most secure storage option.
10. How do I access my crypto wallet?
You can access your web crypto wallet online. You can access your web wallet from anywhere and on any device. Have your login device and authentication information available to access your wallet.